Description
More info about our watch hours service
It's time for your channel to gain more authority and join the YouTube Partner Program. And we can help you to get to that next level with quality campaigns that include a real promotion, traffic, and press release.
You will receive YouTube watch hours delivered through high-quality views that will allow you to quickly reach the threshold of 4000 hours and then request monetization. 100% of customers who have used this service have been approved by YouTube without problems (and within a few days after applying to YouTube Partner Program).
We have different marketing strategies depending on the channel and the length of its videos, but the estimated time to complete the delivery of all 4000 hours is a maximum of 14 days.
The required hours are achieved through the delivery of high-quality views (which means high retention and great watch time). Specifically, if your channel has videos 1+ hour-long average watch time is up to 20 minutes and we will deliver most of the views on the 1+ hour-long videos. If your channel has short videos only, we will deliver the views to several, shorter videos. In this case the avg. watch time depends on the video length but it's still very good.
Why we like to remind you that you will receive views with high retention
Because we use quality high retention that will not only allow you to reach 4000 hours quickly but also improve the ranking and authority of your channel.
As proven by several case studies, views and watch time are major factors when it comes to ranking and algorithm! According to Briggs, watch time is the #1 factor for ranking.
Also, YouTube confirmed how important it is, stating how they prefer to rank and promote videos with lots of accumulated Watch Time.
The longer you can keep people watching on YouTube because of your content, the more your content may get surfaced. (Google)
But hold on: There's way more in our watch hours Campaigns
To make the process more natural and increase channel authority, our watch hours campaign will also include:
Social Media Shares & Posts
Articles Submission
Real views from direct advertising! (native ads)
Before placing the order, however, make sure that your channel meets our requirements or send us an email with the channel link so we can tell you if it is possible to start the campaign (or what is missing to start it). Here more useful information about the service:
Put the link of your channel and not of your video(s). We will take care of choosing which videos are best to deliver the views when processing the order.
To use this service your channel should have at least 6 videos and original content. It also needs to have at least 1 video 10+ minutes long, but the longer, the better. 1 hour+ video are great! (in the next paragraph, you find all the requirements for this service)
Videos will receive high retention views. The campaigns are 100% safe.
Includes real traffic from advertising on social media and websites
Viewers will come from all over the world (international)
Once the service is started, it can't be interrupted!
What are the Requirements?
Important: To use this service, your channel should meet the following requirements
No copyright or community guidelines strikes received in the past 3 months
The content of the channel must be in line with YouTube Partner Program policy. No explicit content or the channel wouldn't go through the monetization review!
It should have at least 6 videos
To activate the service, it's necessary that on the channel you have some long video. Therefore, your channel should have one of the following:
1 Video of 10+ minutes (again, the longer the better 🙂)
or 3 videos of 5+ minutes
The videos you upload should be original and monetizable, so vlog, tutorial, gameplay with commentary, original movies, and sketches, etc.
These requirements are important. Without them, you can't use this service also because you would just waste your money since without original content the channel wouldn't pass the review to join the Partner Program.
Also, since that affects the chances of being accepted or not into the Program, we suggest that your channel has an original profile picture and a channel banner.
If you have doubts regarding the eligibility of your channel you can send us an e-mail with a link to your YouTube channel and we will let you know if the channel meets our requirements and tips and tricks to make your channel more appealing. Simply send us a message to Buysmmstock@hotmail.com and we will get back to you.
Buy YouTube Watch Hours 💸
• Reach 4000 hours within 2 weeks and enable monetization
• Marketing strategies 100% safe and tested
• Includes real interactions through social media and website promotion
• Safe and High-Quality YouTube views (with high retention)
⚡ Speed to deliver all the hours: 4-15 days, depending on the amount ordered and the channel. Most of our clients reach 4000 hours in max. 10 days
✅ To use this service your channel needs at least 6 videos, of which one should be at least 10 minutes. The longer the videos, the better.
Note: Before ordering please make sure that your channel meets also the other requirements listed later on this page.
Reach 4000 hours now and start making money on YouTube
You probably keep producing videos but they don't receive enough visits. You invest a lot of time in video production but without having any kind of return, either in terms of views or from an economic point of view. Stop wasting your valuable time and let us help you. With this service, you will boost watch time and views of your channel safely and in just a few days request the activation of monetization to start having an economic return and a greater motivation on YouTube!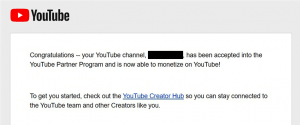 24/7 Customer Support
We offer 24/7 email support to all our clients! Have a question? Just ask and we will reply within hours if not minutes.